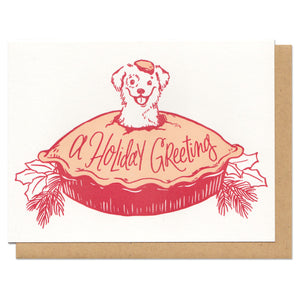 Puppy Pie A Holiday Greeting Greeting Card
No puppies were harmed in the making of this greeting card. We do not endorse baking your pets in any way.
This card is available as a single greeting card with envelope OR as a set of 6 cards and envelopes packaged in a crystal clear plastic box.
Printed in Providence, RI

A2 100# 100% recycled white paper

A2 sized kraft paper envelope

Blank inside